Finn Delivers Perfect Score On and Off the Mat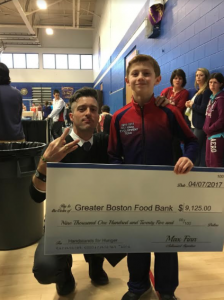 By Sam Gordon 4/14/2017
A young gymnastics prodigy is opening eyes on and off the gymnastics floor with a calling for a good cause.
11-year-old Max Finn, who recently won the Massachusetts State Championship, has been running a charity he created called "Handstands of Hunger."
The charity is aimed at helping the less fortunate get well fed. Finn came up with the idea after seeing people struggle with hunger.
"A few years ago, we went to a lot of food pantries with people that were homeless or didn't have enough food to survive on their own," Finn said. " I just really wanted to help some people that needed extra supplies and resources and so that's how I thought up Handstands for Hunger."
Finn's father, Jonathan, immediately supported the idea and has been by his side since the founding.
"I encouraged him that if he wanted to do something good for people that he try to combine that with something he is passionate about," Jonathan said. "He was able to combine (gymnastics and the charity) together and there you go, Handstands for Hunger."
Jonathan also mentioned just how proud he was for his son, his awareness about the need to help others, and having that understanding at such a young age.
"Every father is proud of their kid," Jonathan said. "I don't know at 11-years-old that I would have been as industrious and really kind of thought or had enough foresight to do something."
The charity is off to a terrific start thanks to the hard work of the Finns, but they're only getting started.
"The charity is not too big right now," Max said. "But I feel as though it should expand a lot to a lot of gyms all over New England and maybe other places can get involved in it so we can help as many people as we can."
Finn will be competing in the gym in hopes of having an impact on the sport. He will apply that same work ethic to his growing charity.