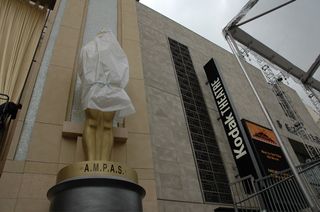 The 2008 WEBN Oscars trip has officially begun.
We touched down in Los Angeles just after 11 a.m. Pacific time.
We were all settled into the hotel by 1 p.m. By 2:30 we were out the door again in search of our credentials. Gabi, Hallie, Satch and) I walked the short way from our hotel to the Kodak Theater where the 80th Academy Awards will be held this Sunday.
The Kodak Theater is busy gearing up for the big awards show. The majority of the bleachers for the fans had been set up and a large golden Oscars was covered by a tarp since California is experiencing some unsettling weather. It is a little cooler than I expected. I don't think we hit 60 degrees today.
Nevertheless we made the most of the day. Gabi, Andy, Satch, and I used our new credentials to get down to the red carpet. The only problem was the red carpet actually is not arriving until tomorrow morning. Gabi and Andy shot a standup that will air on "Good Morning Emerson" tomorrow. We all took a lot of pictures to showcase the Oscars preparation. The cables are being installed and the lights are going up. I did not realize that the Kodak Theater was actually surrounded by a mall! I never would have known.
Hallie just arrived back from her interview at TMZ where she got the inside scoop on how its staff will be covering the after parties that are sure to hit tinsel town Sunday night.
Be sure to tune in tomorrow for a sneak peak from Hallie's interview with Henry Winkler and much more!
Madeira Ginley
Associate Producers
WEBN at The Oscars
WEBN's latest Oscar photos are available in the right navigation. Click on the photos on the right to see our Oscar photo album.