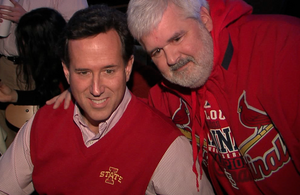 By Patrick Welter — 12/30/11
Rick Santorum expects to win Iowa and go straight to New Hampshire.
The presidential hopeful had an afternoon snack at a sports bar in Ames, Iowa and sees victory ahead.
Santorum told a swarm of reporters to go back to last week and look at his standings in the Iowa polls. He said "things change." And that is certainly true. He has surged to third place.
Santorum insists the campaign isn't doing anything differently but is just continuing to work hard. "If we do well here in Iowa and we get out there on the national stage more then you'll see our numbers in the key swing states and I think we'll do very well."
Santorum added that right now he has a team in New Hampshire and will begin television ads Monday.