By Mandy Cordero 4-7-2013
Author Sue Reed recently stressed the importance of energy efficient landscaping at the Cambridge Public Library. She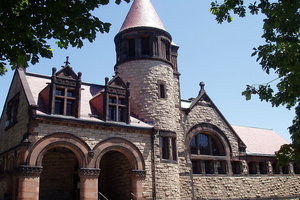 offered tips on cooling buildings, creating natural lawns and using nature as an advantage.
Reed began the lecture by discussing direct energy saving ideas. She discussed indoor cooling and heating. Planting trees, particularly evergreens, around a building can block sunrays and create shade for a cooler house. Green walls work just as effectively. If they are placed strategically, trees can also deflect cold winds in the winter.
"An indirect method is to allow nature to run its course," explained Reed. Fallen leaves work as well as manufactured mulch to protect tree roots. She believes creatures also help protect gardens, so creating ecosystems is essential.
She also spoke about reducing the size of lawns. Maintaining a lawn uses up a multitude of resources, such as lawn mowers, pesticides and plant food. Creating a wildflower meadow instead requires less maintenance. Another alternative is using no-mow grass blends, which restrain grass from growing a certain length.
Reed challenged horticulture and garden fashion. She focused less on the aesthetics and more on its environmental impact. Reed's book is titled Energy-Wise Landscape Design
This event was part of "Evenings with Experts: 2013," a public lecture series held by the environmental group Grow Native Massachusetts.  According to founder Claudia Thompson: "our mission is to inspire people to take action on behalf of native plants." The organization looks maintain Massachusetts' natural resources and biodiversity.
The lecture series will continue with two more events, focusing on botany and invasive species. More information can be found at Grownativemass.org.