By: Claire Kerr
The 2014 Boston Fashion Week ended on a picture perfect note with the closing night event, "Expressions: The Faces of Boston Fashion."  People from all over the city came to the W Boston Hotel Saturday, October 11th in celebration of ten photographers who have widely influenced Boston's fashion industry:  Tracy Aiguier, Joel Benjamin, Kevin Day, Sadie Dayton, Cory Despres, Michael Diskin, Daniel Gagnon, JJ Miller, Bob Packert and Cheryl Richards.  More than 200 portraits were displayed on multiple screens, while guests enjoyed mingling and laughing over cocktails.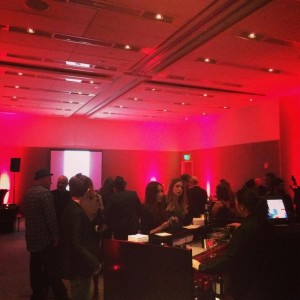 WEBN was fortunate to interview the Founder and Executive Director of Boston Fashion Week, Jay Calderin.  We also had the opportunity to speak with photographers, fashion designers and models to hear the creative visions and perspectives behind their work.  The high level of passion and attention to detail was apparent when looking not only at the photographs, but also how the artists appeared in person.  Many of the outfits were art pieces themselves – intricate, patterned jackets and blazers with eye-catching scarves, jewelry or hats as accent pieces.
The digital portraits featured an array of sophisticated as well as humorous subjects.  Some images were up-close and focused, allowing viewers to see the individual wrinkles or freckles of the subject.  Others were full-body shots of figures in motion.  The subjects' clothing, in each photograph, highlighted a particular theme or emotion.  For instance, the stripes on a man's hat would parallel the shape of his eyebrows and smile in the photograph.  A flowing dress contoured a woman's spinning movements in another image.  The photographs were black and white, making them appear timeless.
The venue was almost as spectacular as the photography, with a nighttime view of Boston's shimmering city lights from the W Hotel windows.  Colored lights and candles provided an urban yet elegant atmosphere, which complimented the modern fashion photography.  The DJ played upbeat techno music that emanated a classy nightclub mood.  By the end of the evening, people were letting loose and dancing.  The true objective of "Expressions" was captured, as the artists and audience members all joined together in honor of "the faces of Boston fashion."  We end this 20th anniversary of Boston Fashion Week realizing that each unique individual in this city contributes to the celebration of Boston fashion every single day.