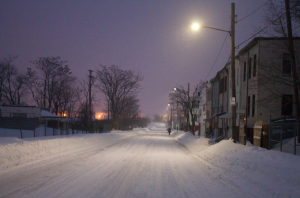 By Amelia Fabiano  02-02-14
Just one week after facing the snowy wrath of Blizzard Juno, Boston braced for more  after celebrating a Super Bowl victory from the New England Patriots. Monday's Winter Storm Linus dumped another foot of snow on top of the twenty-four inches that were already there for the city, causing Mayor Walsh to shut down public schools for the fifth day in the last seven.
The announcement came late Monday afternoon, with Mayor Walsh's main concern being safety.  In the press release, he stated, "Our crews will be working hard to clear all streets and schools tonight and tomorrow as we recover from this ongoing winter storm."
 Massachusetts school districts are required to have 185 days in their calendar with five snow days built in, Boston has already reached those just in the past week alone.  Boston schools were also cancelled on Jan. 8 due to extreme cold, putting the grand total at six snow days this school year.
In addition to cancellations, a big delay was made in regards to the New England Patriots' victory celebration.  Mayor Walsh decided to postpone the Super Bowl Parade to 
Wednesday
 due to the weather, making Pats fans wait just a bit longer.