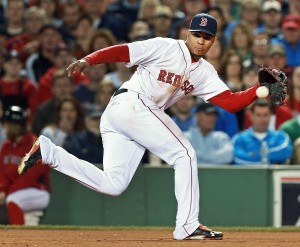 By Maria Santora 11/9/15
The player with a seemingly golden future ahead might have a gold glove to match.
Xander Bogaerts, the shortstop for the Boston Red Sox, has been named a finalist for the 2015 American League Rawlings Gold Glove Award. He is the only player from Boson to be nominated this year.
The 23-year-old has made big strides defensively despite having been told throughout his Major League career that he was too tall to play shortstop or that he would need to move to third base to make room for Stephen Drew if he wanted to stay in the lineup.
Even his own teammates criticized his abilities; Pablo Sandoval told him to stop making "wimpy throws."
Once Bogaerts was given the chance, he proved everyone wrong and was recognized as one of the most improved players in the league. He started making routine plays look instinctual, was able to cover more ground than even the most hopeful trainers, evaluators, and coaches had imagined and had 236 putouts.
This improvement is accredited to his continuous dedication and hard work throughout the offseason and spring training. Bogaerts spent eight weeks in Arizona at training facilities working on first step quickness and explosiveness.
"Bogey put in a lot of hard work," infield coach Brian Butterfield said at the end of the 2015 season. "We're all proud of him. You could see a difference from the first few days of spring training. Nothing held him back."
The nominee started in 154 games this season and was ranked in the top five in the league for most defensive runs saved.  He has only 11 errors on 676 total chances, giving him the second-highest fielding percentage in the league.
This nomination is validation of his hard work. "I always knew I had good hands, but just making all those plays, sometimes I'm like, 'Wow, you really came a long way. Definitely be proud of yourself,'" Bogaerts said.
Bogaerts, Alcides Escoabr a shortstop for the Kansas City Royals, and Didi Gregorius a shortstop for the Yankees are among the finalists for the award in the American League. The winner will be revealed on Nov. 10 on ESPN2.