By Priscilla Liguori 2/3/2016
The film Spotlight portrays the true story of how the Boston Globe investigative team uncovered widespread sexual abuse in the Roman Catholic Church.
Original Spotlight reporter Michael Rezendes was beyond impressed with how the six-time Oscar nominated movie portrayed the team's investigation in 2001.
"I think the movie was incredibly true to the substance and the spirit of what we did," said Rezendes.
Rezendes considers Spotlight to be very close to complete accuracy. He said this was because of the hard work of everyone involved in making the film.
"They [Director Tom McCarthy and Screenwriter Josh Singer] spent an enormous amount of time doing interviews on their own of survivors and attorneys and other people involved in the case," said Rezenedes. "I drove them around Boston and showed them the neighborhoods where John Geoghan was a priest."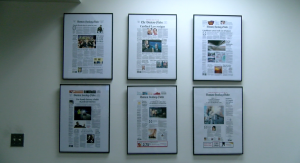 Geoghan was one of at least 271 priests in the Boston Archdiocese who were publicly accused of sexual abuse.
The Globe won the 2003 Pulitzer Prize for Public Service for revealing the previously ignored, covered up, and unfamiliar epidemic.
The cast of the film took their roles seriously as well to do justice to the sexual abuse survivors and victims.
Award-winning actor Mark Ruffalo portrayed Rezendes. He spent a lot of time visiting Rezendes at home and shadowing him at work.
"He sat next to me at my desk. He listened to me interview people. He basically participated in my investigation of the deaths of some mental health patients at Bridgewater State Hospital," Rezendes explained.
Rezendes was overjoyed that Ruffalo was nominated for Best Supporting Actor, but for a larger reason than his excellent portrayal.
"I think this movie might not have been made without him. Because Mark signed on, the other actors got on board because they know how talented Mark is. People really like to work with Mark," said Rezendes.
Rezendes admired how Ruffalo and the rest of the cast buried any egos to take part in the meaningful movie.
"Being rocketed back to that time of my life reminded me that it was not all a bowl of cherries. It was a tough couple of years," admitted Rezendes.
Rezendes said the Church has made some progress since the Globe exposed the sexual abuse and cover-ups.
"Pope Francis has changed the focus of the church and I think a lot of people are hopeful that he will initiate even more change particularly with regard to clergy sexual abuse," said Rezendes.
Since Pope Francis entered the papacy in 2013, he has created a special commission to study clergy sexual abuse and a tribunal to hold those who cover up abuse accountable.
"I think a lot of the survivors feel that's still not nearly enough. Isn't it time for more concrete action? I think they have a real point," Rezendes said.
Cardinal Bernard Francis Law resigned from his position as Archbishop of Boston after the Globe published its articles. Cardinal Sean O'Malley became the new Archbishop in 2003.
Since the release of Spotlight, Cardinal Archbishop O'Malley released statements saying that he has met with survivors, asking for forgiveness, talking about commitment to zero tolerance policy, and admitting that the film is important.
Rezendes said it is terrific that everyone in the Boston archdiocese now has to have a criminal background check. He also likes that there are awareness classes for both children and adults to help them recognize sexual predators.
"I only wish that other bishops have followed his lead," Rezendes said. "I think a lot of survivors are waiting for that to happen."
Cardinal Law was appointed as Archpriest of the Basilica di Santa Maria Maggiore in Rome two years after his resignation.
Rezendes said there once was a time where he thought he'd return to the Catholic Church, but then realized that time would never come.
"As a result of the investigation and hearing so many lies and discovering how deep and pernicious the cover-up has been, I really stopped thinking that there would be a time that I'd go back to the Catholic Church," said Rezendes.
While Rezendes' faith in the Catholic Church may be gone, his faith in journalism has never been stronger.
"Working on that project probably cemented my faith in this particular profession and my belief in its importance," Rezendes said.
Spotlight's Academy Award nominations include Best Film Editing, Best Supporting Actor: Mark Ruffalo, Best Supporting Actress: Rachel McAdams, Best Original Screenplay, Best Director, and Best Picture.
"Spotlight stands up for another group of people that has been voiceless for decades and that of course is the survivors and victims of sexual abuse," said Rezendes.
Rezendes is still a member of the Spotlight team at the Globe. He has worked on countless investigative stories, including those regarding the September 11th terrorist attacks and financial corruption among charity organizations.
"The key to giving people a voice who previously had not had one is to know who they are," explained Rezendes. "That's a matter of keeping your eyes and ears open and being aware of how our society works and how our system works."

More Spotlight Coverage:
"Spotlight" Won, But the Debate About the Catholic Church Continues
Editor Walter Robinson Reflects on Impact of "Spotlight"
Mitchell Garabedian Says Clergy Sexual Abuse Remains a Rampant Issue