By Priscilla Liguori 2/28/2016
Most directors have the composer write songs once the movie is completely put together.
This wasn't the case with Director Paolo Sorrentino and Composer David Lang for the movie Youth.
Lang was nominated for the Best Song Academy Award for writing "Simple Song #3."
Since Youth's plot is based around a composer, Lang wrote first and the movie was made around his score.
"All I had to go on was a very early draft of the script and all of my conversations with Paolo about these kind of philosophical ideas of how music could work," said Lang.
Lang sent Sorrentino many versions of his piece as he put it together.
"He would write me back and he would say, 'Oh David, I am crying a little but I need to cry a lot," Lang said.
Lang kept working until the piece was perfect. He usually writes opera and orchestra music, which he considers to have much more of a subdued emotional level.
"The idea that I have to make an emotional response that's immediate was very difficult for me…I was trying to avoid imagining myself in a completely damaging horrible environment and now I guess I have to go there," said Lang.
The movie's main character Michael Caine wrote "Simple Song #3" when he was young. His performance of the song at an older age is the climax of the film.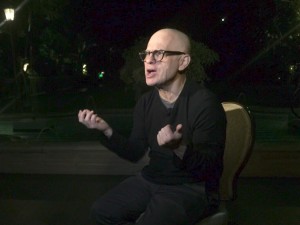 "It had to be something that you would believe a young person could write when he was optimistic and full of love and had a future. It could also be something that was a little bittersweet and a little tragic of someone looking back at things that used to be that aren't any more," Lang explained.
Lang said that because character Michael Caine was a world-class musician, it would only make sense for renowned musicians to perform the music in the film.
Opera superstar Sumi Jo was in a very early version of the script. Russian violinist Victoria Milova performed the violin solo in "Simple Song #3."
"We worked with this great orchestra in England: the BBC concert orchestra," Lang said.
The Academy left two scores nominated for Best Song out of the Oscar ceremony, including "Simple Song #3" and "Manta Ray" by Antony Hegarty and J. Ralph. Lang considers this a missed opportunity for the audience.
"I understand it from a business point of view but I also feel like it's a tremendous disappointment that these incredible singers… Sumi Jo one of the great sopranos of our day and Anony who has one of the most incredibly moving and powerful voices," said Lang.
Lang explained the difference between his every day work and composing for film.
"It is actually possible for you to do something which is absolutely perfect for you that fails. And it's also possible to do something completely satisfying for the environment that you don't like," said Lang.
Lang added that while composing for opera or an orchestra, he must write for his specific audience. In film, he has to share ideas for a larger audience that can encompass anybody.
In addition to writing music himself, Lang teaches music at Yale University.