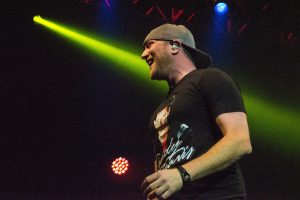 By Priscilla Liguori 12/12/16
A lot has changed for country star Cole Swindell since his first trip to Boston in 2007. Back then, he sold shirts for Luke Bryan, and now, the singer and songwriter sold out House of Blues Boston with his Down Home Tour.
"He has multiple songs on the top charts," said concert attendee Kelsey Toti from Portsmouth, RI. "He's definitely made it."
What sticks out about Swindell even more than his success is his humility and genuine appreciation for his fans. "You all are what matter to me, not awards. You do because this is what's real to me," Swindell told the audience in between songs.
Swindell has made six number-one hits, and kicked off his concert with the fan favorite "Hope You Get Lonely."
When Swindell performs his song "Ain't Worth the Whiskey" at his shows, he makes sure to stop and repeat the lyric "I'm raising my glass to those saving our ass overseas" with the crowd. He wrote the song six years ago, but the meaning of those words to him have since changed.
"The evil isn't just overseas anymore," said Swindell, who wants the line to honor people working for America. "[The lyric] It's for our police officers. It's for our firefighters…the people sacrificing for us to be free."
Swindell highlighted the talent of his opening acts throughout the show. He told the audience that they would be seeing his fellow Georgia-natives Cole Taylor and Travis Denning make big hits in years to come. "Four years ago, I was right where they are," said Swindell.
The energetic crowd jumped and sang along to Swindell's upbeat dance songs and swayed to his slower songs as he sat on a stool and jammed on his guitar.
"His twang is nice," said fan Sam Coough from Fairhaven, Mass. "Not many country stars have a twang that good."
"Listening to country music puts me in a better mood," added Toti. "Country music is down-to-earth. It brings people together."
Swindell's tour ends Dec. 17 in North Carolina, but he will be on tour with Dierks Bentley until the end of April.
"He shares his personal stories in what he sings about," said concert attendee Joshua Correia from New Bedford, Mass. "His music is awesome. I'm hoping he comes out with more music because I definitely like listening to him."
All photos by Priscilla Liguori/WEBN-TV.
More of Cole Swindell:
More of Cole Taylor:
More of Travis Denning: