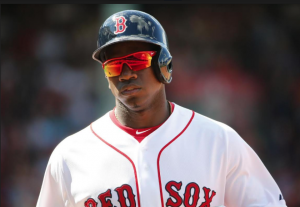 By Sam Gordon 2/28/2017
After committing two obvious errors in this year's spring training, Boston Red Sox left fielder Rusney Castillo's future with the team is looking even bleaker than ever.
After signing a five-year $72.5 million contract, Castillo has played 99 major league games with a .262 average with seven home runs and seven stolen bases. Despite this Castillo only appeared in nine games during the 2016 season was sent down to the Red Sox Triple-A affiliate after 29 teams declined to claim him off of waivers.
In one of his errors, Castillo grounded into the infield and chose not to run hard to first base as he thought there were two outs. However, there was only one out, and as a result he was thrown out at first for the double play and the end of the inning.
This is not the first time he has missed the number of outs in a game situation. In August of the 2015 season, Castillo threw the ball into the stands after catching a routine pop-fly. Jose Ramirez's fly out to center was however only the second out of the inning and Indians center fielder Abraham Almonte was able to tag up at first and advanced to second base with the play being ruled a throwing error.
Now with his latest blunder, Red Sox manager John Farrell did not hold back when talking about Castillo and not buying into any of his excuses.
"Disappointing for a couple of reasons," Farrell said. "One, he has lost the number of outs. Still, regardless of another of outs, getting down the line is controllable. And for a player in his situation, every little aspect of the game is important."
It makes sense for players to make errors and mental mistakes in Spring Training because that it's there for, but the glaring errors made by Castillo have stuck out to Farrell like the proverbial sore thumb.
"That's something that was addressed in the moment," Farrell said about one of Castillo's errors. "He needs to execute the game situation. And for that matter, every player. But that one obviously stood out."
Castillo no doubt got a lot of press in 2014 because of the promise of his past play in Cuba. In the Baseball World Cup of 2011, Castillo was named one of the tournament all-stars with a batting average of .512 going 21 for 41 with four doubles, two triples, and two home runs. With no word of him ever mistaking the number outs, there were, nor was there ever any criticism of his baserunning ethics.