By Sarah Maugaotega 9/27/17
This year, the Mayor's Office of Arts and Culture hosted its third annual Fay Chandler EMERGING Art Exhibition and Awards. Contemporary artists that lived or created art in the City of Boston were encouraged to apply, and the award winners were announced by Mayor Marty J Walsh Friday. 

Myron Belfast won the "Best in Show Award," for his contemporary art-deco work he does with charcoal. A native of Trinidad, Belfast grew up in Cambridge and currently lives in Dorchester.  Keith Maddy won the "Over the age of 50 Award," a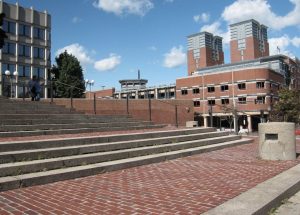 nd creates exclusively cut and paper collages. Maddy is a resident of Back Bay and uses multimedia as an aid in his storytelling. 

Mark Tortorella won the "New to Making Art Award." Two years ago, after a successful career in finance, Tortorella decided to quit his job to pursue a lifelong passion for creating art and started working as a professional artist. The newcomer works primarily with oil paints both on canvas and board. 

In addition to cash prizes, the winners received Fort Point Artists Community and an Artist Certification by the City of Boston.


The exhibition showcases work from 48 city artists and are on display in Boston's City Hall in Scollay Square Gallery through Sept. 29.