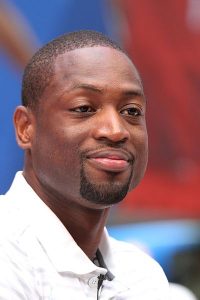 By Brian Danuff 10/16/17
The starting five is set in The Land.
Cleveland Cavaliers Head Coach Tryonn Lue announced the team's starters this week and Dwyane Wade is one of them.
Wade will be reunited with LeBron James in September after he agreed to a buyout with the rebuilding Chicago Bulls. Despite nearing his 36th birthday, Wade still proved to be an offensive force last season, averaging 18.3 points per game,  guiding the Bulls to the eighth seed in the Eastern Conference.
Now with the Cavs, Wade is expected to help make up for the offensive production lost when they traded Kyrie Irving to the Boston Celtics for Isaiah Thomas.  Thomas is recovering from a hip injury and is not expected back on the court  until Christmas at the earliest.
The Cavs will host Irving and the Celtics in their season opener on Tuesday.