By Chloe Teboe 3/24/2018
A student-led anti-gun violence rally attracted more than 50,000 people to Boston. The event was part of the March for Our Lives movement created by survivors of the Parkland, Florida school shooting.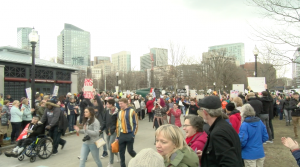 Over 50,000 people took to the streets of Boston to rally against and protest gun violence on Saturday.
Students were key organizers for this event and cited a desire for change as their main inspiration.
"We're here. We're going to vote out politicians that prioritize guns over children's lives," said 17-year-old organizer, Charlotte Lowell, from Andover High School. "We're done with it." 
"I knew there were people behind me, but once I stepped in front and looked back, that's when it really dawned on me how many people were here," said Northeastern University student and organizer, Leslie Chiu. "That's when I knew that we are making change."
The march in Boston started at Madison Park High School in Roxbury and ended at the Boston Common where students and Boston school faculty members, parents, teachers, and local leaders spoke to a crowd of thousands.
The rally was one of many held across the entire nation and world as an event of solidarity for those affected by the shooting that killed 17 at Marjory Stoneman Douglas High School in Parkland, Florida last month.