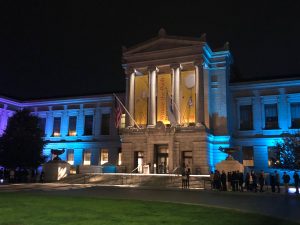 By Natalie Benoit 10/24/18
Hundreds of people bundled in jackets formed a line that wrapped around the corner of Huntington Ave and Forsyth Way last Friday. Colored, flashing lights lit up the Boston Museum of Fine Arts as these guests waited with tickets in hand for the doors to open.
Members of the public joined students and professionals at this year's Late Nite at the MFA which allowed guests to view art exhibits and participate in several activities. The extended evening lasted from 8 p.m. until 2 a.m.
Kristen Hoskins, an MFA curator, believes this night at the museum breaks down barriers between museums and people's perceptions of them. "We're showcasing everything from hip-hop to performance art," she said.
The MFA Late Nite sold out in pre-sales at 2,500 tickets. However, more people appeared at the doors ready for the musical performances and art installations.
French pastels and propaganda-inspired art were among the exhibits left open for viewing. The night was not just about seeing, but also about doing. Some guests created miniature sculptures called "shelfies" which they could either take home or place on display in the gallery.
Inside the museum, visitors could snack on tacos, dumplings and more at the tasting menu station or grab a bite from the Taste Café. Outside in the Calderwood Courtyard, guests could play Jenga or cornhole with drinks from the beer garden.
Guests attended performances by literary poet Regie Gibson and a special program by Subcontinental Drift Boston (SubDrift). Gibson took visitors' impressions of the French pastels and created a poem he shared aloud. Members of SubDrift performed a dance, played music and shared poetry with the audience.
Jamaican-born DJ Raquita provided the music in the Shapiro Family Courtyard where Cecilia Vicuña performed.
The interactive performance by Vicuña, a Chilean native, gave the audience a sneak peek of her exhibition. The New York-based artist gave an emotionally charged performance that was accompanied by pre-recorded background sounds. On-lookers described the performance as an interpretive dance. This performance came the night before Vicuña's opening of "Cecilia Vicuña: Disappeared Quipu."
University of Massachusetts graduate Sabrina Victor participated in the interpretative experience and reflected on it saying, "It was something about meeting other people and getting to be in a vulnerable space together at the same moment."
The night took six months of planning and involved around 60 MFA members to make the event run smoothly.
The Museum of Fine Arts will continue celebrating art and culture with two other Late Nites in March and May.