By Christopher Williams 02/16/2019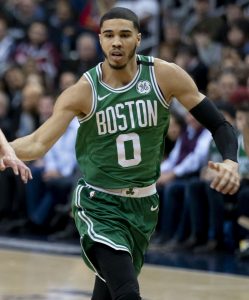 The Boston Celtics took down the Detroit Pistons 118-110 at TD Garden on Wednesday.
Boston played its second consecutive game without guard Kyrie Irving, who is sidelined with a right knee strain. Head coach Brad Stevens said Irving is day-to-day.
Celtics guard Terry Rozier was also out due to illness.
The Celtics started the game on an 8-0 run led by two quick layups from Gordon Hayward, who got a rare start as of late. He tallied 18 points and 8 assists.
The Pistons quickly responded by going on a 24-5 run. Blake Griffin propelled the run and led all scorers with 32 points.
Double-digit performances from six different players sparked the Celtics' offense.
Jayson Tatum led the Celtics in scoring with 19 points. The Celtics led by as many as 28 points in the fourth quarter to improve their record to 37-21.
They enter the All-Star break tied for fourth place in the Eastern Conference standings.
The Celtics will resume its season on Feb. 21 as the Celtics travel to Milwaukee to face the Bucks.