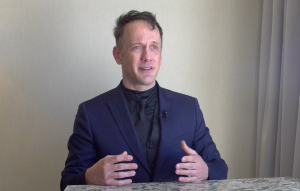 By Kristen Bates
Jeff Whitty has had a connection with Lee Israel long before he wrote the screenplay of her memoir "Can You Ever Forgive Me?" Like Lee, Whitty considers himself a crank when it comes to inauthenticity. His play, "The Hiding Place", had similarities with Lee's personality. He understood that Lee isn't an awful person but has a big heart that, according to Whitty, is just covered in porcupine quills.
Now that he's an Oscar-nominated screenwriter for his adaption of the film, Whitty says it means a great deal to him that "Can You Ever Forgive Me?" has been received so well. He took great care and attention to detail to get Lee Israel and her experiences just right.
"I read the memoir and, by page four, I was like 'I know this voice,'" Whitty said. He had been working on the film since 2011, all the while waiting for Melissa McCarthy to have a free moment in her busy acting schedule. He researched for the film but he already knew Lee's world. Whitty says he frequented the bar, Julius', a staple in both the film and in Lee's memoir.
Even though Whitty had a lot to work with on Lee's character, there were times he found himself having to push the boundaries on his imagination.
"I had to, sort of, forge the forgeries sometimes," recalls Whitty on Lee's counterfeit letters, "she would give just a little bit of a letter and I needed something longer. So, I would be forging Lee forging Noël Coward and Dorothy Parker."
Writing Jack Hock, Lee Israel's beloved friend, was a challenge for Whitty. There wasn't enough information in the memoir to flesh out Hock's character, so Whitty had to fill in the blanks of who he believed Hock would be like. Whitty had to balance the high spirits of Hock with his loneliness in a way that created a complex character. And it worked. Richard E. Grant plays Jack Hock in the movie, a role that has made him an Oscar nominee.
The 91st Academy Awards airs this Sunday, February 24, at 5pm PST.