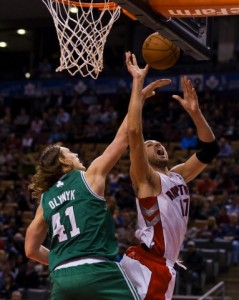 By Natalie Clydesdale 6/13/19
The Toronto Raptors have won their first NBA championship in franchise history. Toronto secured the title with a 114-110 win over the Golden State Warriors in Game 6, taking the series 4-2.
Kyle Lowry led the Raptors with 26 points, 10 assists and 7 rebounds. Pascal Siakam also scored 26 while Kawhi Leonard and Fred VanVleet each added 22.
Leonard was named the NBA Finals Most Valuable Player, averaging 28.5 points on 43 percent shooting. He is the first player to win a Finals MVP in both conferences since he previously won it in 2014 for when he played for the Spurs.
The Warriors, who won three of the past four NBA titles, played without the injured Kevin Durant and lost Klay Thompson to a torn ACL in the third quarter.
Thompson led the Warriors with 30 points.