11/23/19 By Christopher Williams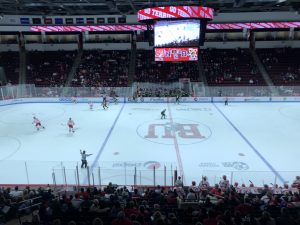 BOSTON — The Boston University men's hockey team shutout the University of Vermont Catamounts in a 3-0 win yesterday despite being outshot and spending over a third of the game on the penalty kill. The win earned BU (4-4-4, 3-3-3 Hockey East) its third win within their last nine games.
The Terriers played their first game of the season without head coach Albie O'Connell, who served a one-game suspension for his postgame conduct following a 4-1 loss to the University of Massachusetts Amherst on Saturday, Nov. 16.
Assistant coach Paul Pearl filled O'Connell's role behind the bench.
"I thought that Vermont came in with a good game plan against us and did a good job defensively, and our guys stuck with it," Pearl said. "We did a really good job with the simple plays and didn't give up a lot on our side, and that's a credit to how hard these guys work in practice on the defensive side of the puck."
Freshman defenseman Domenick Fensore opened the scoring 4:21 into the second period to break the stalemate for the Terriers, registering his first collegiate goal.
"I saw Ethan Phillips driving wide, and I went to the far post and banged it home," Fensore said. "It was a good play by him, and it was good to get that first one out of the way."
Patrick Harper scored BU's second goal with nine minutes remaining in the middle frame to record his fifth goal of the season. After receiving a drop pass from David Farrance at the right faceoff circle, the senior winger skated across the blue line to the left circle and sniped a shot into the top left-hand corner.
"I just had a good amount of time and space and saw a little bit of room upstairs," Harper said. "I just tried to elevate it high and fast, and luckily it went in."
Defenseman David Farrance tallied his second assist of the game on Harper's goal, extending his point streak (six goals, five assists) to six consecutive games. The junior leads Division I with seven power play goals, leads all defensemen with 16 points, and is tied for the Division I scoring lead with nine goals.
Assistant coach Paul Pearl praised Farrance's overall performance this season.
"David's game has rounded out really nicely this year," Peal said. "I mean obviously the points are really flashy, but if you watch him and see all the video on him and see what he's doing day to day, everything has been fantastic with David."
The Terriers lost their freshman first-line center Trevor Zegras to a five-minute major penalty and a game misconduct following an elbow to the head of a Vermont defenseman with six seconds remaining in the second period.
The Catamounts began the third period on the power play for nearly five minutes, but a combination of stellar goaltending and Terrier penalty killers putting their bodies on the line helped BU kill off Zegras' penalty.
Senior Patrick Curry cemented the win with an empty net goal with five seconds remaining, keeping Vermont winless in Hockey East (1-8-0, 0-6-0 Hockey East).
Graduate student Sam Tucker earned his second shutout as a Terrier, saving all of Vermont's 26 shots on target. The goaltender also recorded his first collegiate assist on Harper's goal.
Although Pearl was in charge as head coach last night, he emphasized that a full team effort from players and coaches earned the Terriers the victory.
"I don't know how main I was," Pearl said. "We all chipped in a little bit with our own things, and we're very, very happy to have Albie back tomorrow."
BU will conclude its series against Vermont today in the team's tenth-straight Hockey East contest. Puck drop is scheduled for 4 p.m.