1/21/20 By RJ Curreri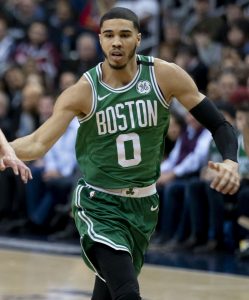 The Celtics held down homecourt last night defeating the Los Angeles Lakers 139-107. This game not only saw the return of Kemba Walker and Jaylen Brown to the Celtics starting lineup but also the return of Anthony Davis for the Lakers. Despite the Celtics' recent struggles and the Lakers' continuing success on the road, this was a one-sided affair for the C's who were coming off a three-game losing streak.
The Celtics benefited from a strong offensive performance, shooting nearly 60% from the field and 47% from the three-point line. The team was led by Jayson Tatum who dropped 27 points in addition to 20 points, respectively, from Kemba Walker and Jaylen Brown. Brown made the highlight reels in the second half after posterizing LeBron James with a two-handed slam. The Celtics' defense held showtime-duo LeBron James and Anthony Davis to only 24 points combined.
Many fans hope this bounce back win will propel the Celtics back to their play at the beginning of the season as the C's are currently one win behind the defending-champion Toronto Raptors for third place in the Eastern Conference. Their next matchup is against rookie-sensation Ja Morant and the Memphis Grizzlies at home on Wednesday.