02/28/21 By Giulia Campos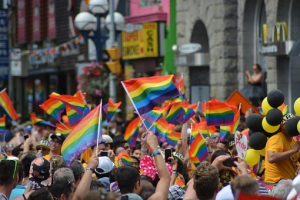 WASHINGTON— The House of Representatives passed the Equality Act on Thursday, a bill that would ban discrimination against LGBTQ Americans. The bill aims to amend existing labor and civil rights laws to prevent businesses and institutions from discriminating against people based on sexual orientation and gender identity.
President Joe Biden said on the campaign trail that passing the Equality Act was one of his top priorities. The bill would extend protections to cover federally funded programs, employment, housing, loan applications, education and public accommodations.
"Every person should be treated with dignity and respect, and this bill represents a critical step toward ensuring that America lives up to our foundational values of equality and freedom for all," Biden said.
The fate of the bill now lies in the Senate. While the bill has a strong support among Democrats, it poses controversy among Republicans. Many Republicans argue the Equality Act will violate religious freedom and harm businesses and organizations who refuse to serve LGBTQ Americans based on religious principles.  
The House passed the Equality Act in 2019 with unanimous Democratic support and the backing of eight Republicans. Donald Trump's Administration opposed the measure and it was not considered in the Senate. 
Democrats are trying to revive the bill now that they have control of Congress and the White House, but they face an evenly divided Senate.