10/18/21 By Rhiannon Melton
Gen. Colin Powell, former Secretary of State, died Monday morning of COVID complications.  Powell's family released a Facebook statement announcing his death Monday morning.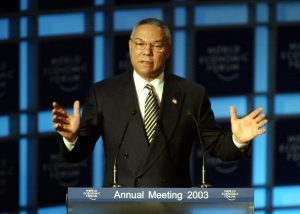 The Powell family writes that the former Secretary of State was "fully vaccinated," and thanked the Walter Reed Hospital for their care.
Powell also had multiple myeloma, a cancer of the blood cells.  Powell received successful treatment for years, Peggy Cifrino, Powell's longtime Chief of Staff, confirmed to ABC News.
Gen. Powell served in Vietnam, and, during his political career, served under four presidents: Ronald Reagan, George Bush, Bill Clinton, and George W. Bush.  Under these administrations, Powell helped shape America's security and foreign defense policies.    
Powell is survived by his wife, Alma, and his three children.  His family wrote, "We have lost a remarkable and loving husband, father, grandfather, and a great American."