10/25/21 By Steph Trendell
Boston residents have only elected white men to the mayor's office, but that could change next week. The two candidates who have prevailed in the primary, Michelle Wu and Annissa Essaibi George, are both women of color.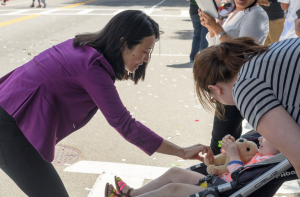 Wu is an immigrant from Taiwan and Essaibi-George is a first-generation Arab-Polish American.
Current Boston Mayor Kim Janey is a black woman, but she was not elected. Janey took the place of Marty Walsh who was appointed labor secretary by President Joe Biden at the beginning of the year.
While both Wu and Essaibi George are currently Democratic city councilors, their ideologies differ on a wide variety of topics such as housing costs, police reform, and crime. According to WBUR, Wu leads Assaibi-George by about 32 points. 
Boston City Hall is the main polling location for early voting. It is open for early voting from 9 a.m. to 8 p.m. on Wednesday and Friday and from 9 a.m. to 5 p.m. on Tuesday and Thursday. Early voting began on Saturday, Oct, 23, and will continue until this Friday, Oct. 29.