10/25/21 By Rhiannon Melton
Sudan's military seized control of the country Monday hours after arresting the country's prime minister. The coup overthrew the transitional government that was moving Sudan towards democracy. Thousands of Sudanese people, many of which were women, took to the streets in protest.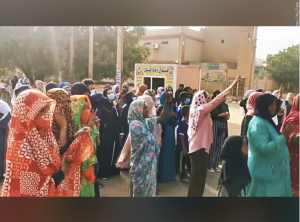 The troops opened fire on some protesters, killing three and wounding 80, according to the Sudanese Doctors Committee.  More protests are expected after calls to action by political parties and unions, BBC News reported.
The United Nations condemned the military takeover. Various member nations—including the United States, United Kingdom, France, Ireland, and Estonia—are calling for an emergency U.N. meeting regarding Sudan.  
The coup occurred just weeks before the Sudanese military was expected to transition the leadership of the council that leads the country to the people.
Social media footage from Kharthoum showed large groups of protesters in the streets, chanting, "The people are stronger, stronger!" and "Retreat is not an option," AP news reported.  As citizens urged the military to cease violence, billows of black smoke rose from the city.