By Sebastian Ospina
A distraught Kyle Rittenhouse broke down in the middle of his trial Wednesday, alleging that he acted in self-defense when he left two men dead and one man shot in the arm during the massive unrest and protests in Kenosha, Wisconsin in Summer 2020.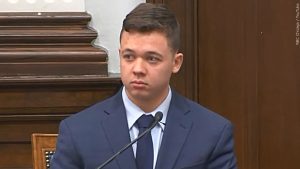 "I didn't do anything wrong. I defended myself," Kyle Rittenhouse said to the judge as he played the risky game of taking a stand at his own murder trial.
Footage from the scene shows the teen being chased and falling to the ground. One of the protestors, Joseph Rosenbaum, attempts to take Rittenhouse's AR-15-style semi-automatic rifle, but Rittenhouse shoots him four times, killing him.
Later that night, he kills Anthony Huber, who he says hit him with a skateboard and tried to grab his rifle. He further mentions that Gaige Grosskreutz, the man he wounded in the arm, approached him with a pistol pointed to his head.
At the end of the court session, Judge Bruce Schroeder told members of the jury that he expects to finish the case by early next week.