02/02/22 By Rhiannon Melton
A massive winter storm swept through the central U.S. Wednesday, bringing rain, freezing rain, and snow to the millions of Americans in its path.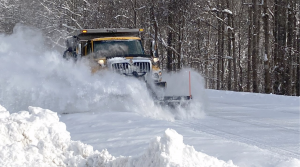 The storm began Tuesday night, prompting the National Weather Service to issue winter storm warnings, ice storm warnings, and winter weather advisories in various states, from New Mexico to Maine.
The storm's path spanned 3,000 miles, from Texas to the Midwest, and parts of the Northeast– prompting school, work, and flight cancellations, as well as hazardous driving conditions across the U.S. 
Oklahoma, Kansas, Missouri, Illinois, Indiana, and Michigan saw freezing rain, sleet, and snow by Wednesday morning. By midday Wednesday, some areas were already reporting over a foot of snow.
"And it's still snowing in those areas," said Andrew Orrison, a meteorologist with the National Weather Service in College Park, Maryland.  
The storm moved across the U.S. on Groundhog day, the same day groundhog Punxsutawney Phil predicted six more weeks of winter.