04/05/2023 By Peyton Benbow
A large tornado touched down between 3:30 and 4 a.m. CDT in Bollinger County of southeastern Missouri on Wednesday morning, resulting in five confirmed deaths.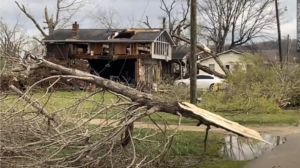 Bollinger Country is a rural area about 50 miles south of St. Louis, and the tornado was targeted around the Glenallen, Marble Hill, and Grassy areas. The county's sheriff's office posted on Facebook this morning that "names will be withheld until we are sure all family members have been notified. Again, search and rescue continues". No volunteer efforts were required yet, allowing emergency responders to handle the situation. Millions of residents in the area were warned around 3 a.m., and the tornado watch remained in effect until 4 p.m. Wednesday.
Upon learning of the tornado emergency, Governor Mike Parsons of Missouri called upon the National Guard and Mississippi Highway Patrol to assist in handling the situation. On Twitter Wednesday morning, the Governor said, "I will join emergency personnel on the ground to further assess the damage and learn what resources will be needed during recovery." Extensive damage to homes and property has been reported. The Herculaneum Fire Department of Missouri posted on Twitter Wednesday morning an image of tornado destruction and "multiple local agencies in search and rescue mission."
This devastating twister comes after a major tornado and severe storms stretching from Arkansas to Michigan Tuesday night. At least two tornadoes were reported in central Illinois; the National Weather Service reported that the hail in Chicago on Tuesday morning was the largest ever recorded, "golf ball size." 
The Missouri tornado reached 200 mph winds, placing it as an EF5 tornado with the highest level of damage. On average, over 1,000 tornadoes hit the U.S. each year, and around 77% are considered weak. Many schools from central Arkansas to Illinois are closing in response to the severe weather.