11/16/19 By Rebecca McMahon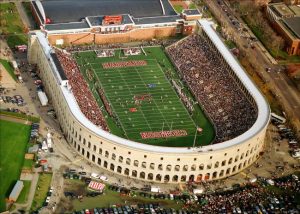 The Harvard Crimson played their final home game of the season, proudly honoring 20 seniors joined by their families prior to the start of the game. Once the game got rolling, Harvard and Penn went back and forth on the scoreboard, but Harvard fell short 24-20 in the fourth quarter. 
Both teams came into this matchup with a 4-4 record. Harvard, however, lost their last 3 games to conference rivals. The Crimson were looking to get back on track with the help of their defensive line who led the nation in sacks per game with an average of 4.63. But, the Crimson defense needed their offense to finish on key drives if they wanted to come out on top.
The Crimson led the Quakers 13-10 going into halftime thanks to Max Jones' interception, stopping Penn's drive with 6 minutes remaining in the half. Harvard quarterback Jake Smith had a great day in the stats-book with 322 passing yards, but could not capitalize in the endzone off Jones' pick. Jake McIntyre came through for the Crimson and kicked back-to-back field goals to close out the second quarter. 
The Quakers set the tone early in the third quarter with a 71-yard touchdown from Rory Starkey Jr. on their opening drive. Harvard responded with 7:31 left in the third quarter with a rushing touchdown from Cody Chrest to go ahead 20-17. 
Following these action-packed minutes, both teams came away empty-handed on two missed field goals. 
The Quakers, down by 3, risked it all on fourth-and-one and it paid off. Robinson went for distance and found Starkey Jr. in the endzone. The ball was tipped and bobbled, but Starkey Jr. was able to hold on and the Quakers took the lead 24-20 with 7:15 left. 
Harvard marched down the field for a first and goal at Penn's 10-yard line. Penn's defense forced the Crimson to a fourth down and they could not cross the goal line. 
With 2:27 left on the clock, Devin Darrington seemed to have gotten a first down on third-and-two, but after the play was reviewed, the call was overturned. Harvard could not make a completion on fourth down and Penn took three knees to run out the clock. 
Harvard will travel to Connecticut next week for the game fans have all been waiting for. A tradition between two historic teams, Harvard will take on the Yale Bulldogs for their final game this year.