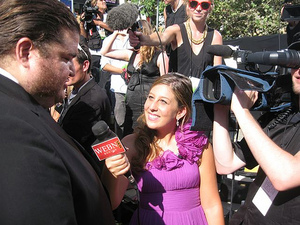 By Jillian Leff
September 21, 2009
Glamour was out in full force for the 61st Annual Primetime Emmy Awards held at the Nokia Theatre this past Sunday. Watching the stars strut their stuff on the red carpet was unforgettable.
Even more amazing were the teams of makeup artists and hair stylists who kept the stars looking perfect. Dealing with the 90 degree heat was less
than ideal for most.
Each star had an assistant or publicist following him or her around with hairspray, makeup, and a towel, making sure these icons of television were sheer and utter perfection. Rest assured, the stars are regular people, with regular sweat, just like us, but they have a team to cover it up.
"Lost" star Jorge Garcia, and "The Office" star Leslie David Baker were thinking cool thoughts as they walked the press and photo line. The extreme heat forced most stars to make it inside as soon as possible. Once the carpet closed at 4:30 pm, the more noted nominees began to find their way down the red row. The press received glimpses of Alec Baldwin and Tina Fey of "30 Rock, and saw a very excited Neil Patrick Harris as he was gearing up to host the show.
Photo credit: Kimberly Richards.